Tile is the ideal choice for finishing a wide variety of surfaces, from commercial to residential, indoor to outdoor, and humble to high-end. But porcelain tile panels offer even more benefits than their smaller cousins.
Tile panels are aesthetically pleasing and can mimic the look of natural stone without the extensive maintenance. They are also much more lightweight compared to products that perform similarly, and have limitless design possibilities matched by high performance and functionality. But the benefits of porcelain panels don't end there.
Porcelain Tile Panels are Hygienic and Easy to Clean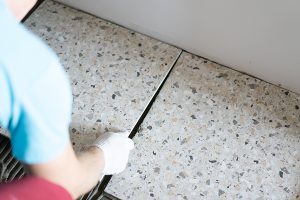 Porcelain surfaces do not hold dirt, dust, pollen, bacteria, mold, or other allergens like other materials can, making them not only easy to clean, but the ideal solution for a hygienic and hypo-allergenic space. Porcelain is also inorganic, and as such it naturally resists the growth of bacteria. Large tile panels have the added benefit of fewer grout joints than smaller tiles, meaning fewer places for dirt and bacteria to gather and less grout to clean.
Porcelain Tile Panels are Fade-, Scratch-, Stain-, and Heat-Resistant
Tile panels are incredibly durable, resisting damage better than most surface coverings. It is extremely rare for panels to be permanently discolored—in most cases spills can be cleaned up easily, leaving no remaining stain. Porcelain resists heat damage as well, making it the perfect choice for kitchen countertops, fireplaces, or other surfaces where heat-resistance is beneficial.
Color is baked into either the tile itself or its glazed surface, making it color permanent. It won't fade from UV rays like other materials can, even if exposed to direct sunlight. And its hard-fired surface is resistant to scratches, scrapes, scuffs, dents, chips, and more…even after many years of use. Porcelain can stand up to heavy wear and tear, making it ideal for high-traffic areas, even in commercial settings. And large tile panels  make it easy to cover vast areas with this durable material.
Large Panels Create a Spacious, Clean Look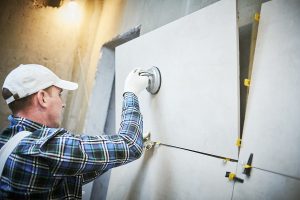 Large tiles mean fewer grout joints, creating a higher level of uniformity and a greater visual continuity throughout a space.Using a similar grout color or tone between the panels adds to the uniform look. And in the same way that light colors make a room appear larger, large panels also affect the perceived size of a room: The visual continuity created by large panel tiles causes a room to appear more spacious than it really is.
The clean lines, ease of maintenance, and design versatility of porcelain tile panels  makes them ideal to use in minimalist design. Large panels create a fresh yet timeless look that inspires a calm atmosphere.
Large tile panels work beautifully in open-concept spaces as well. They are ideal for continuous flooring: highly functional for the kitchen, bathroom, and entryway, yet attractive enough to use throughout your home or office building. They can also add to the seamless look and sense of continuity you want in an open floor plan home or commercial space.
Tile is an Ideal Sustainable Building Material
Tile panels are not only beautiful, durable, and hygienic, but eco-friendly as well. Porcelain tile is made using abundant natural resources such as clay, feldspar, and quartz. Its durability ensures that it is a long-lasting solution, meaning less waste heading to the landfill. And it doesn't require harsh chemicals for cleaning and maintenance, so won't add to the pollution of water supplies. Tile can also help conserve energy, and is an ideal choice for radiant heating. 
Porcelain tile is Green Squared Certified, meaning that it meets rigorous sustainability requirements at every step in its life cycle. It is the ideal solution for an eco-friendly home or commercial building.
Large Tile Panels are Trending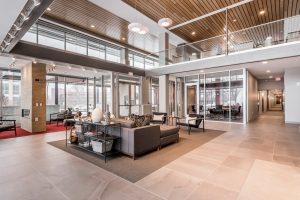 Slab-sized tiles have been a popular choice in Europe for many years, but their appeal has recently expanded to the rest of the world. Large tiles create a contemporary and elegant environment in any space, and are being used to design uniquely modern spaces that are full of beauty and function. 
Tile panels gained popularity in commercial spaces first, but are making their way into the residential market as well. Due to their size, consistency and high performance, large tile panels have a wide variety of uses: flooring, wall covering, countertops, work tables, facades…the list goes on. 
Large tile panels are available in a wide variety of colors and patterns, making them easy to match any decor. Whether you want to create a bold pattern or a look as smooth as marble, you can do it all with porcelain panels. From a bathtub surround to a hotel lobby to a building facade, large tile panels can be used in just about every way imaginable, giving you nearly endless design options.
Porcelain Tile Panels are a Cost-Effective Solution
Large panels of tile are stocked in the United States and can be manufactured easily, making them cost-effective. They are much less expensive than natural stone and faster to install as well. You can now cover an entire room in the look of marble at a fraction of the time and cost!
When they first arrived on the scene, porcelain panels were considered to be fairly complicated to install, but innovations in tools and installation methods have simplified the process in recent years. Plus, larger tiles mean fewer individual sheets, which makes for quicker installation. And after installation, large format tile is extremely low-maintenance, with one of the lowest life cycle costs of any flooring type. 
Interested to see if porcelain tile panels could be a good fit for your home or commercial project? Our team here at ATR would love to talk through it with you—contact us today!
https://atrfloors.com/wp-content/uploads/2020/12/bigstock-Designer-Furniture-Yellow-Armc-398251301.jpg
600
900
WildFig Support
http://atrfloors.com/wp-content/uploads/2021/05/ATR-Flooring-Logo-fc.png
WildFig Support
2020-12-15 16:29:45
2020-12-15 16:29:45
6 Benefits of Porcelain Tile Panels